Please see the attached document for guidelines related to Softball and Baseball games this summer.
Sioux Central does not anticipate that we will be allowed to have an unrestricted attendance graduation ceremony on June 21st. Therefore to give everyone time to make plans, we will not hold another ceremony on this day. This is unfortunate for our seniors but thankfully we were able to honor our seniors in a very personal ceremony on May 17th. You have a lot to be proud of Class of 2020. Sorry it had to end this way. Here is a link to the graduation ceremony on May 17th!!
https://www.facebook.com/310868261986/posts/10156958661706987/?vh=e
All students entering 12th grade must have received 2 doses of the meningitis vaccine. To be valid, one of the vaccines must have been received at age 16 or older. There is no grace/extension period for this requirement.
All students entering 7th grade must have proof of having the TDap and Meningococcal vaccines prior to the first day of school, unless the student has a Certificate of Immunization Exemption. There is no grace/extension period for the implementation of this requirement.
Just a reminder to all seniors this year that your graduation pictures are in the office ready for pick up. See you soon!!


Reminder: Friday, June 12th is the last day to order a 2019-20 yearbook. All pre-ordered yearbooks also need to be paid for by the date to secure your order. If you are unsure of your order, contact Ms. Turnbull at 712-299-0948. Pay online through PaySchools or payment can be dropped off at the school before the deadline. Thanks for your support!
Drivers Education Reminder: All students will need to pick up a drivers education book and chrome book when they turn in their iPad. Attendance at each session is mandatory!! Any questions, please contact Mr. Jeff Tiefenthaler.
This message is for all students who have been participating in drivers education classes this spring. All classes will be held via zoom starting on Monday, June 8th. Classes will run from 9:00-10:30am each week day through June 19th.

#SiouxCentral students, Prairie Lakes AEA wants to hear from you! Share your voice! #plaea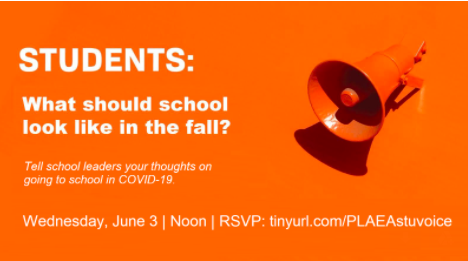 The senior golf athletes enjoyed one last outing at the Little Sioux Golf and Country Club today! Best of luck to Trent Anderson, Caleb Rock, Adrian Hatlen, and Alex Olson! Thank you for your dedication to the Sioux Central Golf program!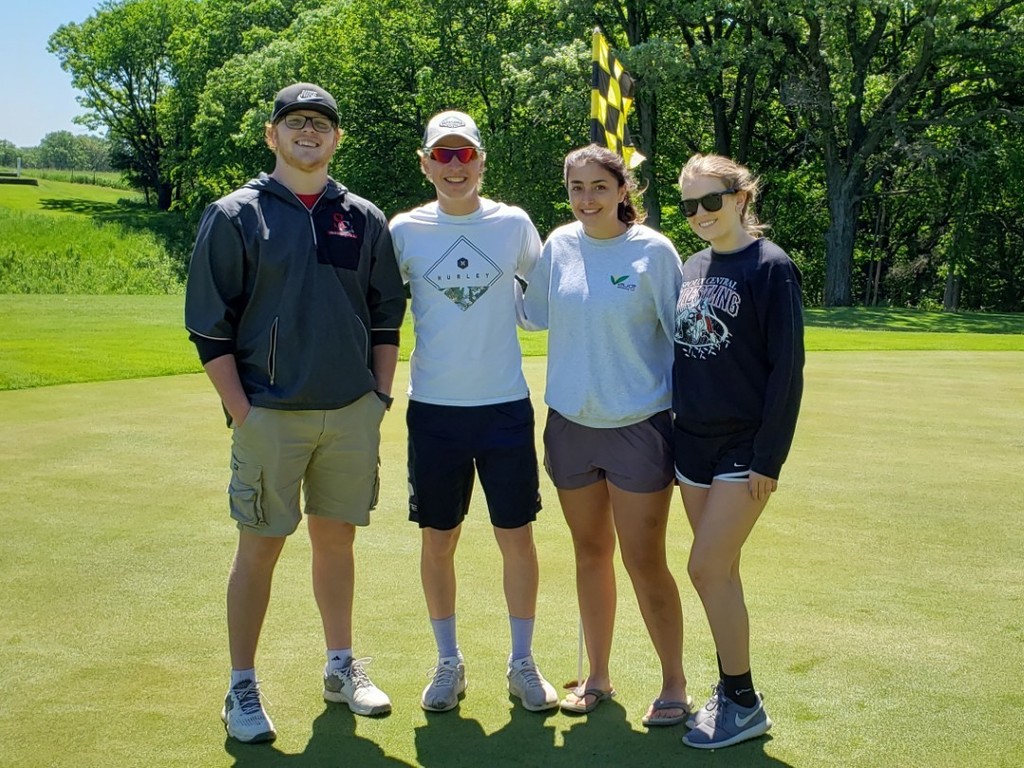 There will be a parent meeting this Sunday night via zoom for all hs players participating in baseball/softball this summer. Your respective coaches will send out the link via remind. If you have questions feel free to email coach Vasher at
avasher@siouxcentral.org
(baseball) or Coach Krager at
kkrager@siouxcentral.org
.

Congratulations on your retirement, Mr. Rachuy! You will be missed! Thank you for your 33 years of service at #SiouxCentral!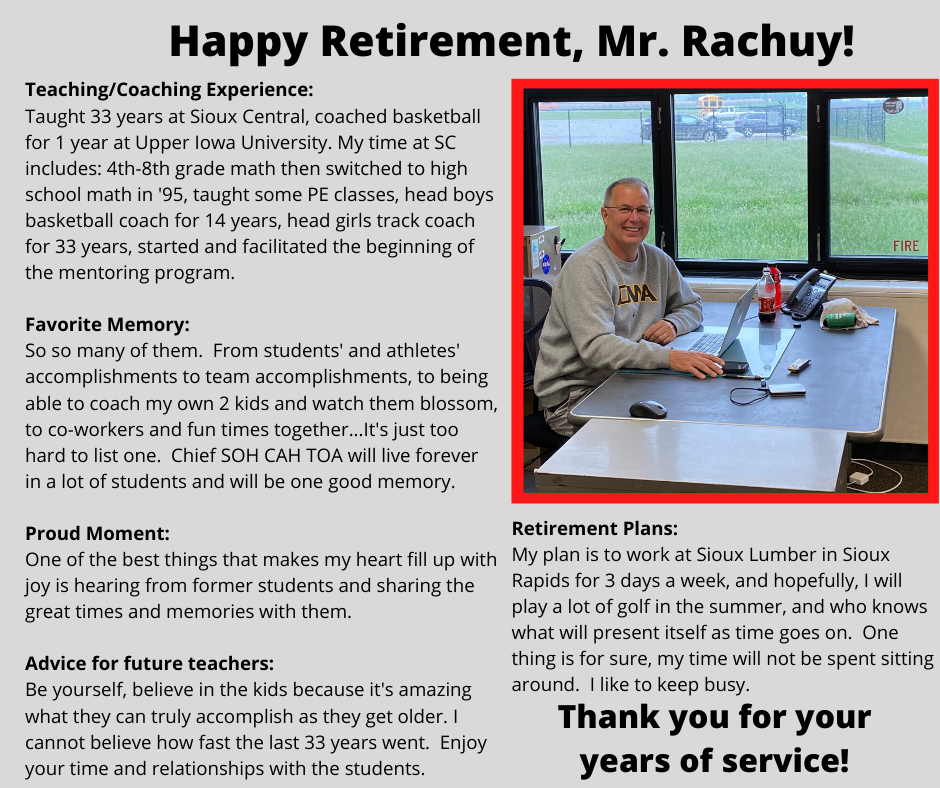 Congratulations on your retirement, Mr. Cadman! You will be missed! Thank you for your 30 years of service at #SiouxCentral!
Band Parents: Mr. Perry sent an email out about summer lesson registration this morning (5/26). Please make sure to complete the registration ASAP. Lessons will start on June 1. Here is the registration link:
https://forms.gle/FwBJaUBGjMxKn4APA
Reminder!! Last day for students in grades 7-11 to turn in your tech device is tomorrow, May 22nd!! Thanks!!
Class of 2020 Seniors: Don't forget to stop into the school to pick up your banner. They are laying out on the stage. You may stop in and grab it during regular working hours.

Last evening, we ended the year with an elementary reverse parade. It was wonderful seeing all who drove through. Thank you to our local fire stations and EMS who kicked off the parade! We love our #SiouxCentral community support!
https://www.youtube.com/watch?v=oEEGqSYsyiY