Basketball schedule changes for the week...no JV girls on Tuesday or Friday. JVR Boys on Tuesday @ 4:30...doors open @ 4:15. V G on Tuesday @ 6:00 w/ V B to follow. Friday JVR B 4:00...JV B @ 5:00...V G 6:15 w/ V B to follow.
We have had a rise in high school student cases within the week with 13 HS age students and 1 Elementary age student testing positive. Please continue to follow CDC guidelines, watch your son/daughter for possible symptoms, and be safe! Mr. Wood

The High School Band/Choir Concert scheduled for tonight has been postponed. We will get you the new date as soon as it is decided. The middle school band/choir will still record their performance tomorrow as planned so please dress accordingly. Elementary is still scheduled to record Friday. Things continue to change every day. Thank you for your patience. Happy Holidays!
Due to an increase in the number of COVID cases we are postponing all dance activities, including the showcase scheduled for 12/19, until after the holidays. We will then reevaluate and make decisions based on the well-being and safety of our student/athletes.
Due to an increase number of COVID cases we are halting practices and competitions within our HS wrestling program for one week from last Friday. We will reevaluate the situation after that and act in the best interest of out student-athletes and their safety.
The HS wrestling meet for tonight in Hull has been cancelled. It will not be made up.

On Dec. 6 students from #SiouxCentral took part in the 2020 American Legion Oratory Local Competition. Congrats to participants Tristan Loving (1st), Patricia Grimes (2nd), & Trevor Cooper (3rd). Loving will advance to districts on Jan. 10. Grimes will serve as the alternate.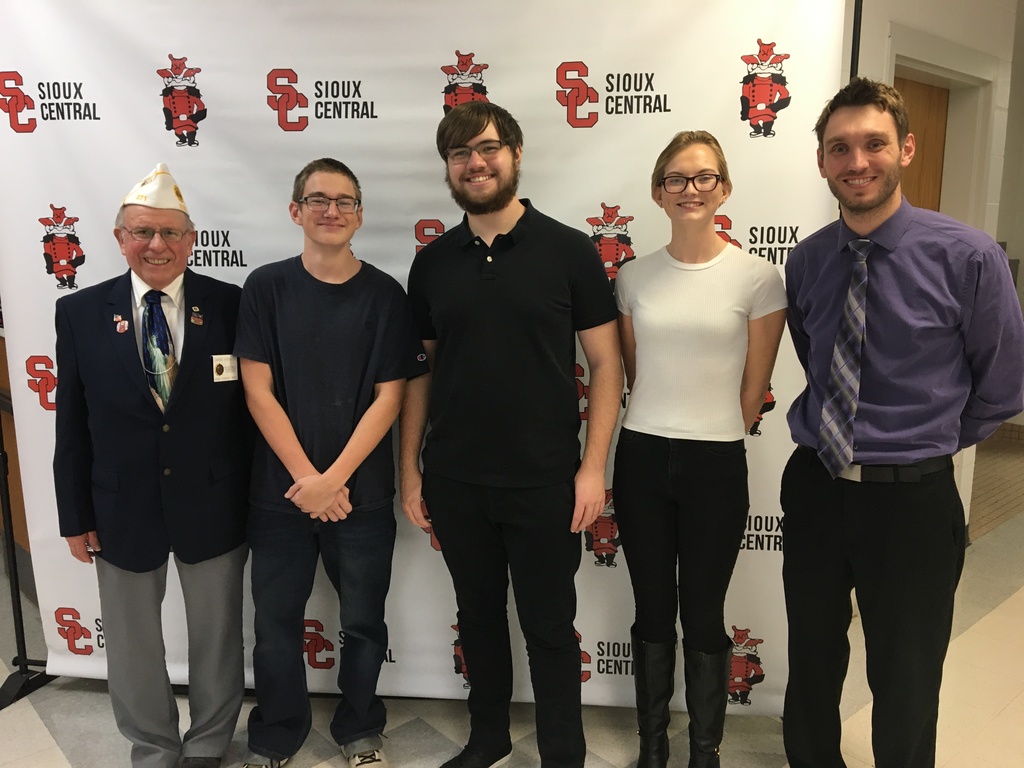 Sioux Central Covid-19 update. We currently have 4 new positive student cases, 9 new quarantined students, and 2 new positive staff cases since last week! Stay safe! Mr. Wood
According to yesterday's proclamation by the Governor, we will be granting two tickets to our HS cheerleaders for basketball and wrestling, pep band members, and dance team members, if they are performing. Please look for them in the next couple of days.
Info for bowling...no spectators allowed at the bowling match in Remsen for tomorrow (12/10/20) afternoon due to COVID restrictions.
Info for tomorrow night's wrestling match in West Bend. Two spectators per wrestler are allowed. We will be sending our cheerleaders. Matches will be live-streamed on....
http://www.west-bend.k12.ia.us/wbm-live/
If you are planning on attending the basketball games tonight...Girls JV please don't arrive until around 3:50...Boys JVR around 4:15...Boys JV 4:30...varsity 6:00 p.m. Games will be live-streamed on Sioux Central Facebook and the link will be sent out at a later time. Go Rebels!
The basketball schedule for today...JV G @ 4:00...JVR B @ 4:20...JV B @ 4:45...V Girls @ 6:15 with V boys to follow. All times are approximate other than JV G and V G. Go Rebels!


The JV/Girls wrestling meet for tonight is not allowing spectators. It will be live-streamed at nfhsnetwork.com. Go Rebels!